b2b Magazine
The prospects of the fashion market were discussed at the Fashion Retail forum
From October 5 to 6, the Moscow business club Palmira X hosted the annual forum Fashion Retail 2017.
The business platform traditionally united the leaders of the fashion industry. Founders and managers of clothing, footwear and accessories retail chains, top officials of manufacturing companies, distributors, designers and fashion retail professionals discussed market prospects, the future of customer experience, the formation of fashion trends, new principles of relevance of the offer and technologies for creating brand identity.
More than 50 representatives of the largest companies became speakers of the forum. They included: Ruben Harutyunyan (Henderson), Aram Davtyan (A3 Retail Group), Konstantin Nadezhdin (Familia), Andrey Berezhnoy (Ralf Ringer), Evgeny Ustinov (department store "Tsvetnoy"), Alexander Shumsky (Mercedes-Benz Fashion Week Russia), Ksenia Ryasova (Finn Flare) and many others.
For the first time, top managers Pazolini, Aizel, «Santocha» (brands Quiksilver, Roxy, DC Shoes), Megasport, Carrera y Carrera, Offprice, Pandora, Geox.
Fashion Retail over the years has acquired the status of a unique business platform for representatives of Russian fashion retail. Annually gathering founders, owners, retail managers and manufacturers, the experts of BBCG suggest discussing not only the strategy of development and sales increase, but also issues of internal communications, work with personnel, cost reduction, marketing tools to attract customers.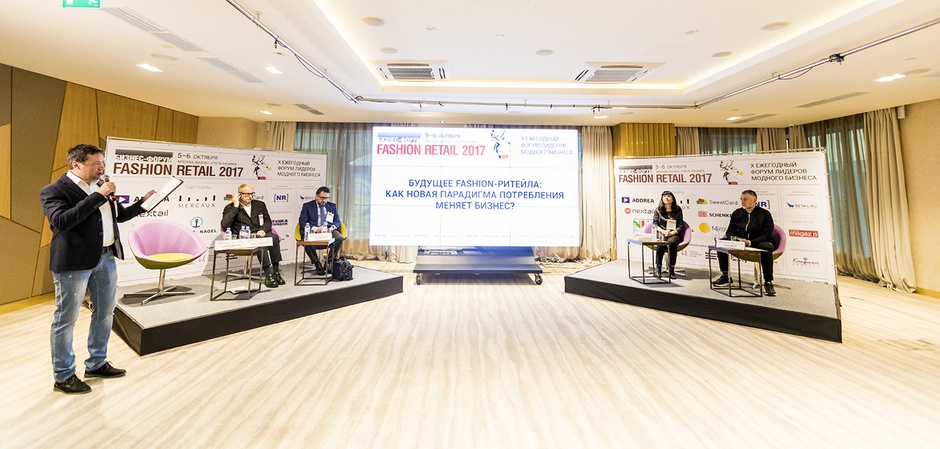 Konstantin Nadezhdin, CEO of Familia, noted that the general trend of the industry is the rationalization of consumption, the search for goods at the price that the consumer considers satisfying his capabilities and not impairing the quality of his life. And today, a retailer must find an individual approach to each customer, strive for a balance between rational consumption and the need to increase their income.
According to Alexander Shumsky, president of Mercedes-Benz Fashion Week Russia, the forum brought together people with diametrically opposite opinions, which is interesting both for companies that have been working for years and for startups, because such a format guarantees the exchange of expert opinions and experience. The market as a whole today must work with those who create creative concepts and new products, which will subsequently dictate supply and consumption trends.
The participants of Fashion Retail showed constant interest in the session of commercial negotiations with chains. In a bilateral format, the meetings were attended by: Au Pont Rouge, Alibaba Group and AliExpress Russia, Butik.ru , Familia, Fashion House Outlet, Goods, KupiVIP Group, Lamoda Market, Little Gentrys, Metro Cash&Carry, Offprice, Otto Group, Ozon, Wildberries, «Children's World», «Kangaroo».