b2b Magazine
Neva Fashion Week 2018
From November 30 to December 2, 2018, the anniversary, 5th season of fashion shows of the project Neva Fashion Week will take place.
Neva Fashion Week – one of the main social events of St. Petersburg, shaping the image of the city as a cultural and European capital. The organizers of Neva Fashion Week are preparing for residents and guests of St. Petersburg a rich program of fashion shows from successful Russian and foreign designers, and have also created a unique fashion project, thanks to which you can establish professional contacts and see the latest fashion trends.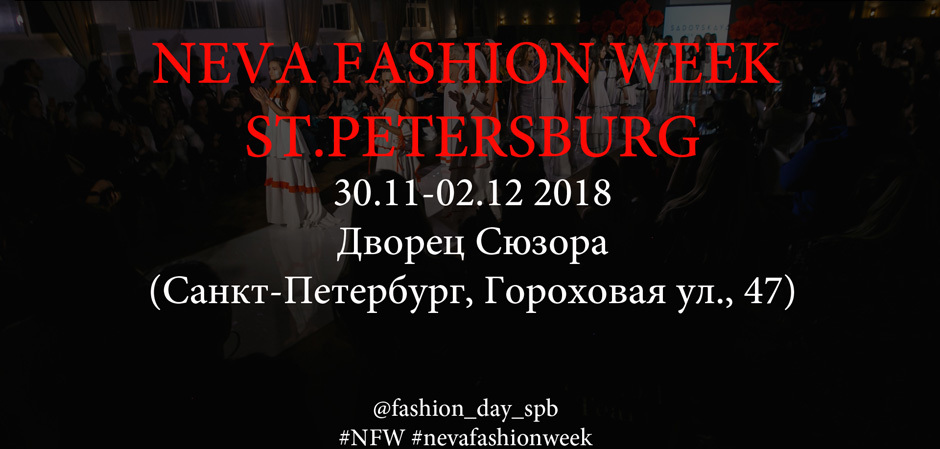 The goal of Neva Fashion Week is to introduce residents and guests of the Northern Capital to successful fashion designers who create exclusive collections, as well as leading Russian and foreign brands of clothing and accessories, jewelry and shoe designers. The project is trying to establish contacts with foreign partners and assist in the development of the fashion industry of the city of St. Petersburg.

This season, their collections will be demonstrated by: ALLA COUTURE, Irina Kryuchkova, Lana2Rock&Vadim Merlis, George Black, Svetlana Gajkovich (Belarus), Asya Akinshina, Korsakov Atelier, Valeria Krysa (Belarus), TM AVENTURA PLUS SIZE FASHION, Gani Kubeev (Kazakhstan), Said Shah, Vira Lilium, MiliFrazzo, EUPHORIA, NK Fashion, Leya.me , Hansel & Gretel, Anna Ramakaeva, T.Efremova, Tatiana Derbeneva and others.

Neva Fashion Week supports young designers and budding brands by providing an opportunity to showcase their collections as part of the Fashion Kaleidoscope Designers collective show. The collections will be presented by: Mukash brand (Kazakhstan), AVANTAGE brand Rita Nikolaeva, Laura Amuletti, YATAKAYA brand.

Within the framework of Neva Fashion Week Geometria Kids and the children's clothing brand Vikki-Nikki will present a joint fashion project called Vikki-Nikki for Geometria Kids. The brightest and most talented children-models of St. Petersburg will take part in it. In addition, young journalists from the first children's television Geometria Kids TV will come specially to this event.

Neva Fashion Week – one of the most ambitious fashion projects of our time. The Week is attended by fashion designers and clients of fashion houses, representatives of successful commercial firms, buyers, journalists, fashion historians, business and secular elite, fans of St. Petersburg style and just ordinary residents. Undoubtedly, the colorful show program will also be of interest to politicians. This event will prove that St. Petersburg can really be considered a fashion capital as well. Moreover, everything from ethno to couture will be presented on one platform.
Photo provided by the organizers.