b2b Magazine
"Fashion Industry" gathers professionals
From April 24 to 27, 2019, the International Exhibition of Light and Textile Industry "Fashion Industry" will be held in St. Petersburg. One of the most important events for the industry will be held at the exhibition site of the EXPOFORUM Exhibition Center, which meets the highest requirements. «The Fashion Industry», the only such large-scale production exhibition in the North-West region, is held IN «FAREXPO» with the support of the Ministry of Industry and Trade of the Russian Federation and the Administration of St. Petersburg.
Last season «The Fashion Industry» was held in an updated format, focused only on professional visitors. The exposition was divided into two zones for wholesale buyers and for specialists in the fashion industry. The upcoming season also provides for new standards of the exhibition. The exhibition will highlight the zones of industrial collections, outsourcing, Start Up and Pop Up Store.
At the site of small-scale outsourcing B2Fashion , enterprises with free production facilities and offering their services in the following areas will be presented:
rejecting collections;
supply of fabrics and accessories;
printing on textiles;
design and development of models;
production of labels and packages;
certification and labeling of products;
logistics;
training and consulting.
Manufacturing companies, retail chains and hypermarkets, online stores, designer brands and local brands can take part in the work of the B2Fashion section. Offers from participants are available in two directions: pre-order collections and fast fashion mode - real warehouse.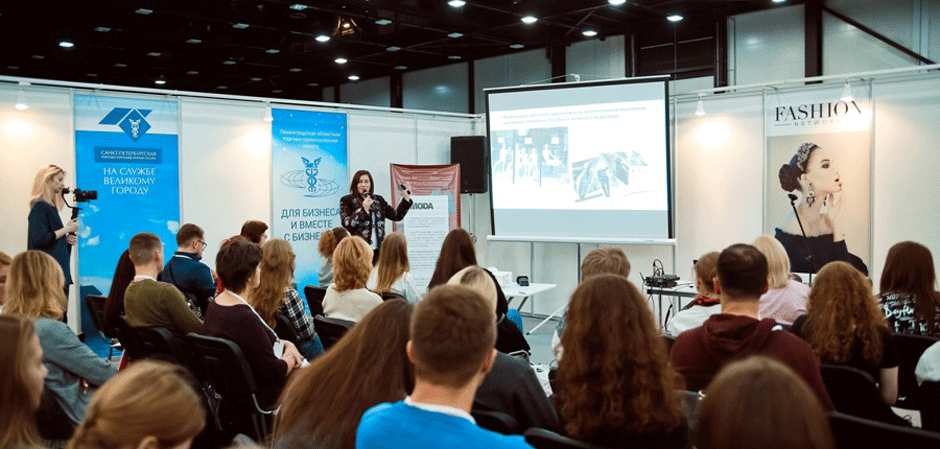 The business program of the exhibition promises to be rich. It includes the traditional The Economic Forum of the Fashion Industry with the key theme of "Dialogue between business and government" and the event Bayer Consult with a discussion of the principles of doing business from the experts of baying. In addition, a business navigator will work on the site, and buyers will be offered trend tours with leading market experts who will help form an assortment taking into account the specifics of the outlet.
Throughout the days of the exhibition, catwalk shows of collections of leading and debuting designers of St. Petersburg will be held on the podium. Also, within the framework of the exhibition, the winners of the young designers competition "Generation NEXT" will be awarded.
Photo: "Fashion Industry"