Thermopol was awarded for its contribution to the development of industry
The Chamber of Commerce and Industry of the Russian Federation awarded a Gold diploma to the company "Thermopol". The business community noted the great contribution to the development of the textile and light industry, as well as the long-term fruitful cooperation of the developer and manufacturer of high-tech nonwovens with companies of all industrial branches of industry in Russia.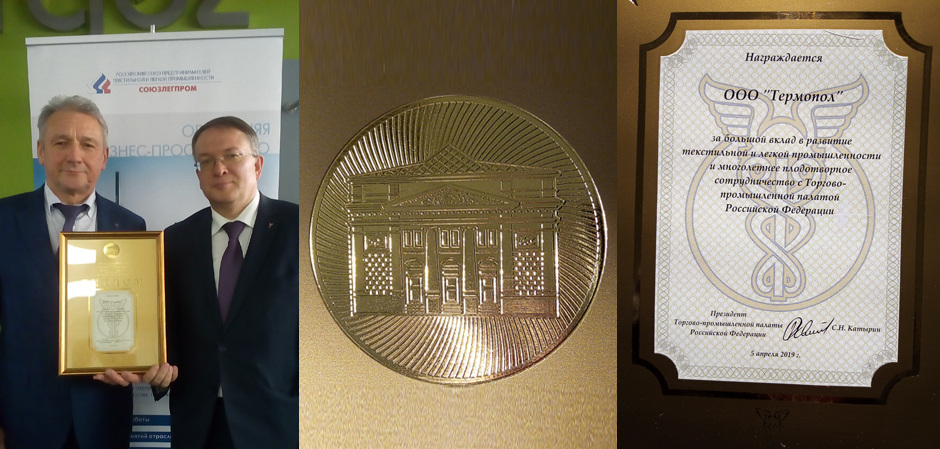 The next step of the domestic industry is associated with the development of technical textiles, the basis of which is petrochemistry, hydrocarbon raw materials, products of "deep processing". That is why «Thermopol»develops advanced technologies, focuses on scientific research, automation, – the CEO of the company comments on the award Victor Gontar. The company is forming a new engineering culture and technological school with new approaches to materials science and the production of chemical fiber products. The methodology of "Predictive planning" implemented by the company has significantly optimized the logistics and production processes.
Non-woven products «Thermopol» These are bionic technologies (biomimetics), focusing on the basic properties of products made of natural fibers, with the task of creating such more affordable, durable, safe and high-quality products. Clothes with synthetic and not natural insulation bedding with fillers of polymers, energy-saving composite construction material – all this in the interests of the project "termopol".
Intensive innovations supported by the company have influenced the change of views on the design and composition of products (clothing, shoes, furniture, mattresses), construction and interior technologies (thermal insulation and acoustic materials), medical products.
In the CCI of the Russian Federation the company "Thermopol" has been since 2005. The first production site in Moscow was established in 2004. By the 15th anniversary of the project «Thermopol» came up with 1.5 thousand developments of innovative nonwovens. The plants produce the most popular insulation and fillers under the brand Holofiber®, which the company owns, as well as unique materials according to the specifications of industrial leaders: Smartloft®, Arquinter®, Ecotherm FR®, Holofiber® fuel and energy and others.
The award of the CCI of the Russian Federation noted the social role of the project "Thermopol", whose products form the consumer market and create prerequisites for the development of small and medium-sized businesses, provides state and corporate orders. The awarding took place on the initiative and with the assistance of Russian Union of Textile and Light Industry Entrepreneurs (Soyuzlegprom)
Photo: "Thermal floor"