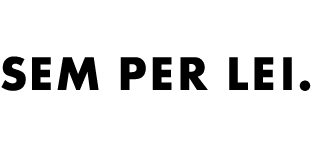 SEM PER LEI – mix of perfection
The brand SEM PER LEI can be confidently called a symbol of high-class European women's fashion. The highest quality and thoughtful design, fascinating by the play of colors, materials and shapes, allows SEM PER LEI to confidently take its place among German premium brands.
The collections are based on knitwear products, harmoniously complemented by models made of the best leather and fur. Collections for autumn and winter are decorated with exquisite fur inserts, and spring and summer images are made of silk and pure linen. The brand's motto is: "Modernity on top of free elegance". Each model from SEM PER LEI gives its owner the freedom to change her image and transform within the framework of a clear stylistic pattern of the brand, in which perfect quality is not just a wish, but a requirement and the main principle.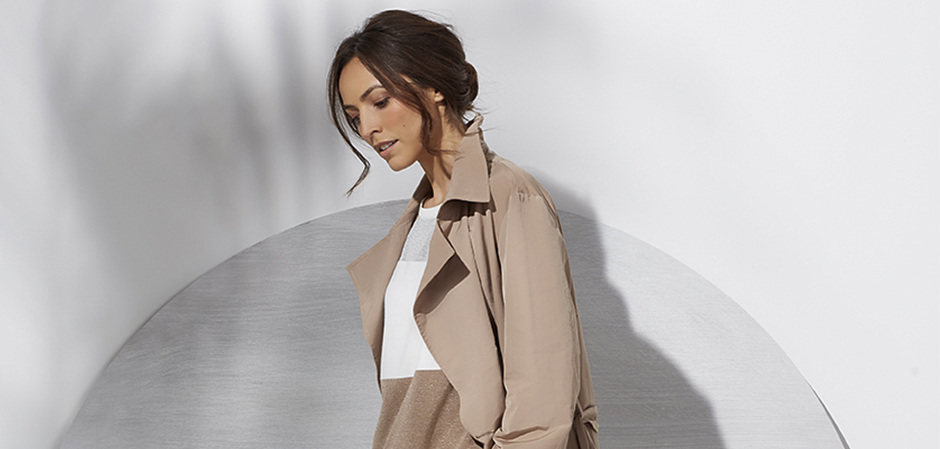 SEM PER LEI – german quality with Italian soul
Sabine and Peter Lohel founded the brand SEM PER LEI in 1991. Sabina Lohel is responsible for the creative side of the brand, and Peter manages the financial side of the case. The head office is located in Dusseldorf. All collections are made in Italy, which gives the brand the charm and elegance characteristic of the traditional Italian style.
Before starting their own brand, Sabina and Peter gained serious experience in the fashion industry. Peter Lohel started from the simplest positions and grew up to be a successful merchant in large companies. Sabina Lohel received a classical education in the field of fashion, having graduated from the Hamburg School of Design. The owners of the brand complement each other perfectly, and despite their fanatical dedication, both appreciate the quality of life and know how to enjoy it.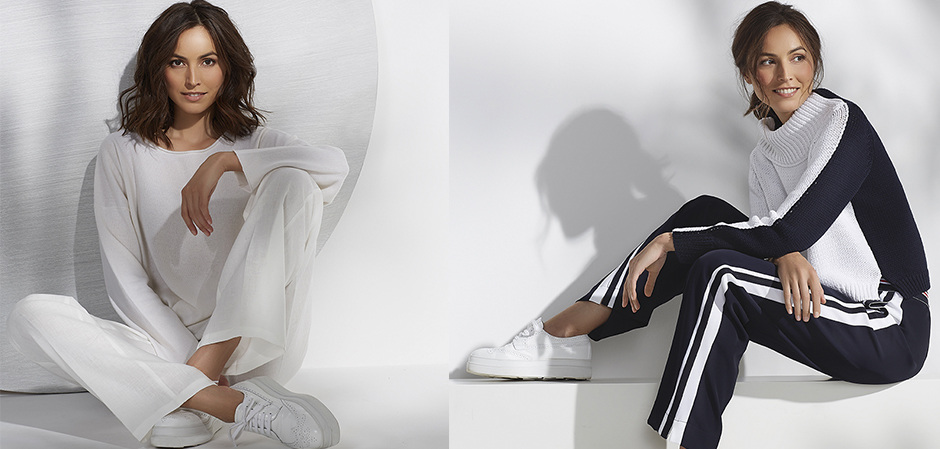 Sabina Lohel intuitively feels the proportions of models, materials and color. Her ability to feel the sophistication of fabrics serves as the basis for a balanced sense of style.It was Sabine who had the idea to create a fashion that conveys the mood. Her models are designed for women who want to look new every day and dress the way they feel. Her style is ease and comfort, cheerfulness and sporty elegance.
Eco-friendliness, 100% European production (Italy), high quality workmanship and thoughtful cut are the main features of the brand SEM PER LEI. Twice a year, the brand releases a new collection, from which fans of the brand can choose for themselves both individual wardrobe items and a full look, and at very attractive prices.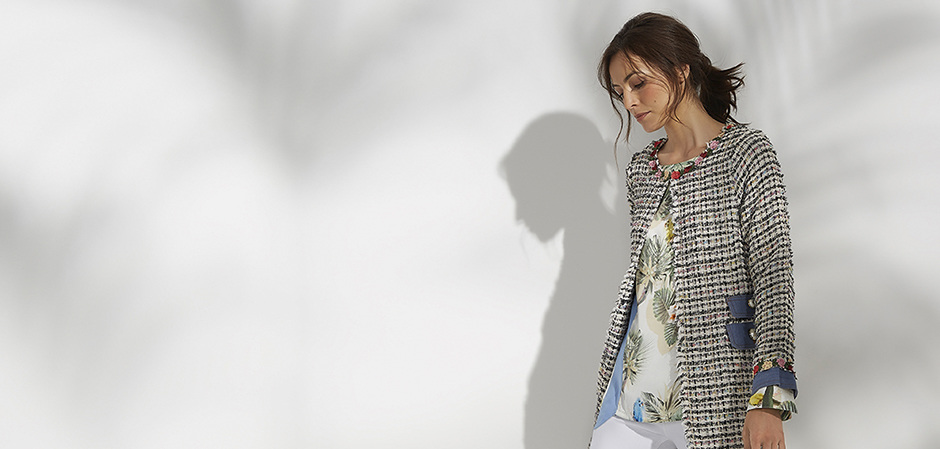 All collections are designed taking into account modern fashion trends. The brand's designers visit leading fabric and yarn fairs, for example Pitti filati Florenz, and use the latest developments.
An exclusive representative office guarantees distribution control – customers work directly with the factory according to a single price list. Such an organization of work allows you to avoid the appearance of dealer margins and waiting for bulk cargoes. Professional brand managers help each client to form an order taking into account the specifics of the region and sales statistics.
It is possible to sort from a free warehouse in Germany upon prior request through a representative office.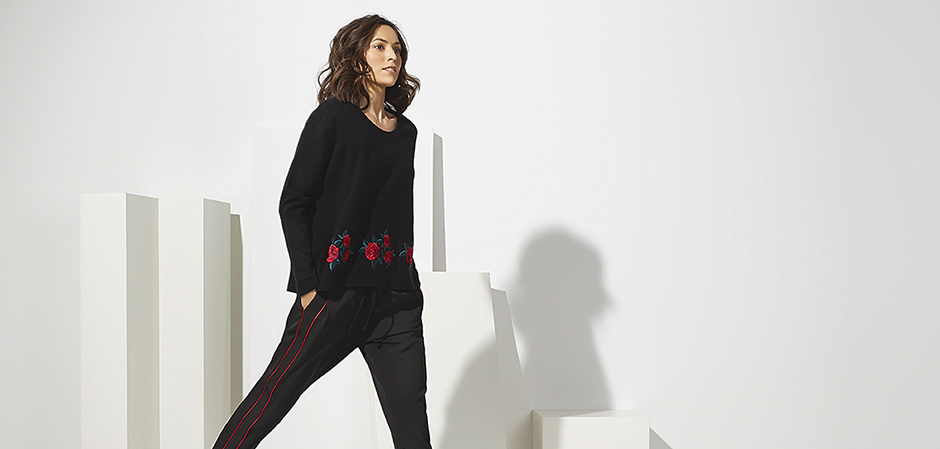 The optimal order amount for a seasonal collection is 7,000 euros. The average purchase price of the product is 95 euros.Wide size grid: from 34 to 48 German size (from 40 to 54 Russian size).
Thanks to cooperation with SEM PER LEI You will receive in your portfolio an exclusive brand working in the popular and almost universal direction today sports chic.
The company's specialists conduct e-mail newsletters twice a week, in which they tell about all the brand news. Works successfully brand's Instagram account,where useful tips on clothing sales techniques are collected and trainings are held with leading business coaches of the fashion industry.
Why SEM PER LEI?
Working with an exclusive representative office, you buy goods at European prices, without dealer margins. With an average product price of 95 euros, you get real luxury clothes in the style of sports chic. The products SEM PER LEI use the latest developments in knitting production –cashmere, wool, acrylic – this composition allows things not to roll off.
For our regular partners:
we conduct customer surveys, product exchanges, promotional gift promotions;
we produce catalogs and lookbooks;
we provide advertising support.
Comprehensive post-service of partners:
support of deliveries;
POS materials;
support service;
personal manager;
easy return of marriage;
merchandising materials;
sales analytics;
managers are in touch 24/7;
making an order with a professional brand manager .
SEM PER LEI has already conquered central Europe and is entering the Russian market. The brand is looking for anchor partners in Russian cities. Your boutique may be the first representative office in your city and have no competition in the region.
SEM PER LEI – this is a b rand, which has been waiting for a long time on the Russian market, offers to work through a reliable and proven showroom in Russia. The favorite brand of European buyers offers a hand and heart to a Russian buyer. This is a brand for love at first sight and forever.
After the initial mailing list on the database of the best boutiques in Russia, 50 lookbook requests were received. We are looking for only the strongest and most stylish boutiques for long-term cooperation.
Location: The Russian representative office of the brand is located in Moscow, Neglinnaya str., 16.
Territorial coverage:Russia and CIS countries.
Optimal order:7,000 euros per season.
Delivery: From a warehouse in Germany by transport companies at the customer's choice. Free shippingleaving to the warehouse of the transport company.
Shipment of goods: Daily after the payment is credited to the supplier's account.
Discount system: Discount program for customers is under development. You can talk to your manager about the possibility of providing a discount after several seasons of cooperation.
Product order: The brand representation works only on pre-order conditions.
The FW (autumn-winter) season is from mid-January to the end of March. Delivery: end of August – about 50%, full readiness – second half of September.
PE season (Spring-Summer) – from mid-July to the end of September. Delivery: end of January – about 50%, full readiness – second first half of March.
Working with the brand SEM PER LEI, the customer decides at what stage of order readiness to pick up the goods. Every week of deliveries, the brand manager sends up-to-date information about readiness.You can pick up both one box and the entire order immediately after saldo.
Product return:After receiving the goods, the customer has 2 weeks to identify the defect and fill out a special form for a refund. Upon receipt of the return form, the brand representative office in Russia contacts the factory to resolve the issue.
To buy premium women's clothing SEM PER LEI wholesale, register on the b2b platform «Fashion magazin» and send orders inside your personal account.
Communication directly with a brand representative in your personal account, prices, discounts, shipment volumes, special conditions in one click!